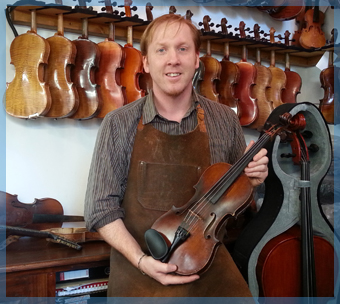 Philip Whitehead is a New Zealand-born violin maker and restorer who began his career as a luthier in 1989. He studied acoustics at Auckland University, and then went on to serve a full six-year apprenticeship in Violin-Making & Restoration under third-generation luthier John Hewitt. Philip later gained further valuable knowledge and experience by travelling abroad and studying fine luthiery in Italy and Australia.
Now with over thirty years experience in violin-making and restoration, he is regarded as one of the leading luthiers in New Zealand.
In his workshop in Auckland, instruments of the string quartet are made according to the traditional Italian style of violin making. These instruments are built from well-aged precious tonewoods and are made following classical models of Stradivari and Guarneri del Gesu. Philip also designs his own models, which are influenced and conceived using the ancient design principle of 'Phi' – "The Golden Proportion".
Aside from the instruments of the violin family, he has also built instruments of the historical family, gaining a better understanding of the evolution in the production of sound to its culmination in the instruments of Stradivari and Guarneri del Gesu. Many beautiful and sought-after instruments come through The String Workshop for sale, restoration or adjustment.
---
"It is my firm belief that within any field of expertise, one must strive to be the best, and can only do so through a continual process of research and study. My education therefore continues to be an exciting and ongoing process which will last my lifetime. Working on instruments that are older than us all, and will also long outlive us, is my constant reminder of the huge responsibility which is undertaken during any restoration process. My intention is to therefore always produce work of the highest standards, and always using the finest materials available. Any of my clients would be happy to attest to the quality of 'follow-through' and long-term care that I personally provide for them and their instruments."